Hatha Yoga
Hatha is a broad yoga term and this practice with our various Hatha teachers will provide you with a balanced weekly practice that promotes strength, mobility, and balance of mind and body.
YogaSpace Yorkshire teachers bring together postures, breathing practices, relaxation and meditation tools that are suitable for both men and women.
The class will suit beginners and intermediate students and our Hatha class will promote personal health and wellbeing.
To choose your teacher and class times, explore the website and click on the different teacher's names and class time links.
Book directly with the class teacher.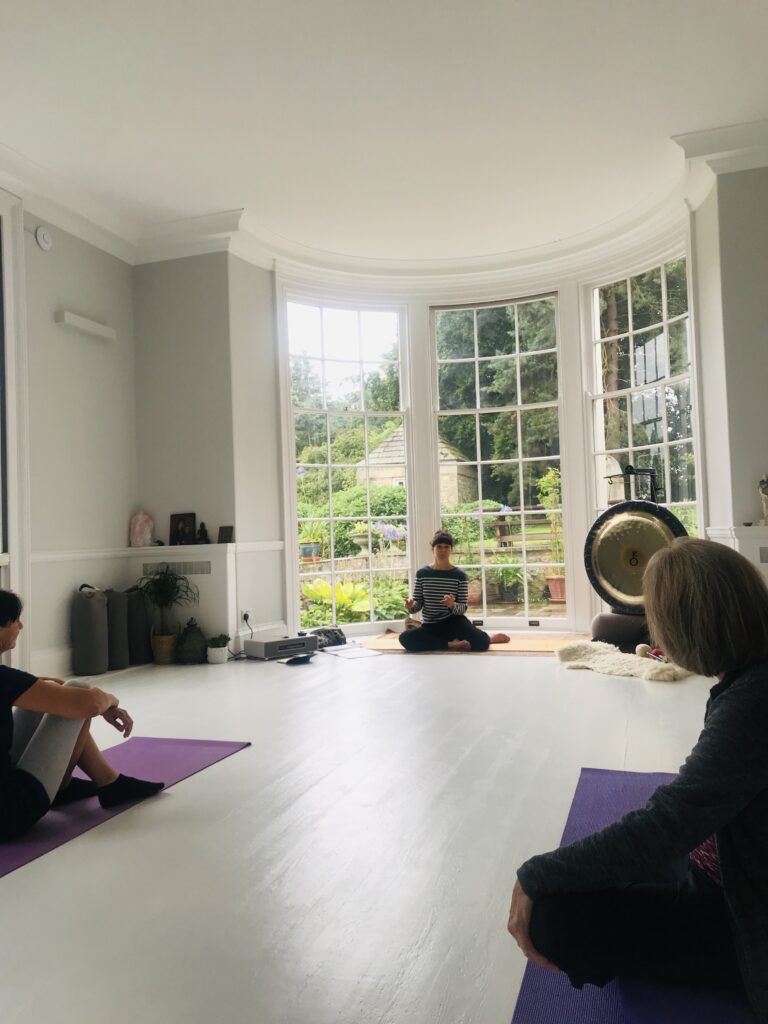 Name: Rachel and Frayah
Class: Hatha Yoga Practice – various times
Rachel Antill writes
Rachel began her personal practice in her late teens. As a climber and fell runner yoga provided a space to recharge and explore body movement in an alternative way. Later the practices and philosophy of yoga began to inform how to move within the landscape without pushing and with more mental and physical balance, yoga came to inform all aspects of life.
Training at first with the British wheel of yoga, and then as an experiential yoga therapist with Yoga Anubhava through the British based Sara Delamore and Indian based Dr. Mukund Bhole (joint director of research until 1995 of the Kaivalyadhama yoga research institute).
Rachel guides you through a practice to find space and clarity within your internal frame, helping you to engage with each practice at a level that is right for you, encouraging each student to think openly and independently. You will find the practices precise but without limitation, fun and reflective, encouraging, and supportive and encompassing all aspects of the eight limbs of yoga.
Frayah writes
I have grown up with yoga in my life, having parents who practiced. As a teenager and young adult, I used to dance and saw yoga as a wonderful way to aid that. However, it wasn't until I came home to North Yorkshire in 2012 after getting my degree in Animation from Bournemouth Arts College that I properly brought a regular yoga practice into my life. 
Yoga has helped me in so many ways in my life. Emotionally and physically. 
I trained with the British wheel of yoga and teach Hatha yoga though have an interest in many different styles and so incorporate lots of other traditions into my classes. I am also a big believer in taking yoga off the mat and into your everyday life. I have always been interested in the philosophy and mysticism that surrounds the practice. Along with living in connection to nature and our authentic selves as best, we can. 
Hatha translates from Sanskrit as 'Ha' meaning sun and 'Tha' meaning moon. It is all about balance, the balance of masculine and feminine, the balance of day and night, the balance of mind,  body, and spirit. It is a wonderful practice for all levels, practicing the poses often in a staged approach so there will always be a level for everyone no matter what your experience so far of yoga. 
I have also recently trained in a method called Sound Moves Yoga, with Noah McKenna. Which uses resonant frequency breathing to aid the body's nervous system while practicing. It is an incredible method and something I will be incorporating into my classes and hopefully doing specific workshops with.  
What do they say about Yogaspace Yorkshire?
The Women's Group has been an amazing, welcoming, warm experience.
The positive energies and collective female wisdom has been brilliant – the thought provoking sessions followed by the yoga and final gong bath was the perfect balance – thank you Emma – and please can we do it all again!
I came on retreat and stayed at the cottages with my oldest daughter in June 2018 and January 2019.

Emma and Charlie are the perfect hosts they made us feel completely welcome in their beautiful home which sits in beautiful grounds surrounded by spectacular views of Yorkshire.
Yoga at Patrick Brompton Hall is a very special experience.
The beautiful and peaceful yoga studio is the perfect setting for yoga practice.
I have taken part in several Kundalini yoga classes during retreats at Patrick Brompton Hall and have loved all of them.
I was a novice to this particular yoga but the classes catered for all abilities and I was immediately made to feel comfortable.
I couldn't have asked for a better start to my Kundalini yoga journey and I can't wait to go back again soon!
To sum it up with one word: love. The best yoga retreat I have been to.
Amazing teacher, wonderful hosts, beautiful facilities, gorgeous surroundings, and delicious food.
Absolutely loved every bit of it
I have been to many different yoga retreats both in the UK and overseas and this one was by far the best.
My advice? Book it now!
I want to do your yoga Nidra class again – I slept so well. Thank you.
From the first moment of entering the beautiful hall, I knew this studio is something special. A light spacious yet so cozy and calm yoga space is hard to find. Relaxation comes naturally and yoga is so much more enjoyable in these beautiful surroundings. Emma is am amazing kundalini yoga teacher and divine when playing the gong. Her classes are challenging yet respect individual circumstances and make you feel so much better instantly. She is very knowledgeable, connects theory and practice with ease, is full of energy and positive spirit and a joy to be taught by. I truly love my kundalini yoga and gong sessions with Emma
Emma's Kundalini classes are 'first-class, a relaxed and professional atmosphere. Emma is fabulous teacher and really opens you to a new way of being while you show yourself self-love and care'