Yin Yoga
Yin Yoga is based on the Taoist concept of Yin and Yang, opposite and complementary principles in nature. Yin is the stable, unmoving, hidden aspects of things, for example in the body – relatively stiff connective tissues (tendons, ligaments). Yang is the changing, moving, revealing aspects which are more flexible such as more mobile and pliable muscles and blood.
These areas are especially rich in connective tissues.
Yin yoga is a slower-paced style of yoga with postures, or asanas, that are held for longer periods of time – for beginners, it may range from 45 seconds to two minutes, and more advanced practitioners may stay in one asana for five minutes or more.
A Yin Yoga class will usually consist of a series of long-held, passive floor poses which focus on the hips, pelvis, inner thighs, lower spine and mainly work the lower part of the body.
The aim of Yin Yoga is to increase circulation in the joints and improve flexibility.
Shoelace pose, a classic pose or asana of Yin Yoga, a more meditative style of yoga. The shoelace pose opens the hips, and is said to affect the liver meridian in the groin and the gallbladder meridian along the outer hip and leg.
Students report deep contentment and relaxation after a Yin class invited in by the stillness of the practice.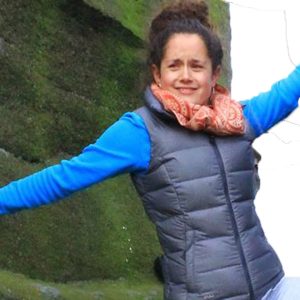 Name: Amy
Class: Yin Yoga
I am a dancer and have always been interested in Yoga, but for about 5 years of practice I didn't really get what the excitement was about however in 2017 I gave myself the challenge to practice yoga and breath work everyday for one month, as a super busy person my mind was always racing and I liked being active; sometimes in that month all I could give myself permission to do was 5 minutes of deep breaths and that was it.
To my surprise through that month my life completely changed I became aware of my breath and more present in my body, my eczema healed up, I become connected to others and nature in a deeper way and as my time commitment to practice increased as my stress levels reduced I developed a healthier relationship with time and and was able to prioritise my time for self care.
One month of commitment to myself transformed my life, I know anyone can have that and that is super exciting!
After the personal challenge I continued to practice regularly and my curiosity of yoga grew so I travelled to India and trained in Multi-style Yoga; focusing on Traditional Hatha Yoga and I also trained in Yin Yoga Therapy and learnt the theory behind why my personal practice had had such a profound effect on my life, and these skills, tips, tricks and processes are now what I love to share with my clients and students!
I am also trained and practiced in Swedish Massage, Reiki an Contemporary Dance Performance, and elements of these continue to influence my personal practice, directly influencing the classes I teach.
What do they say about Yogaspace Yorkshire?
The Women's Group has been an amazing, welcoming, warm experience.
The positive energies and collective female wisdom has been brilliant – the thought provoking sessions followed by the yoga and final gong bath was the perfect balance – thank you Emma – and please can we do it all again!
I came on retreat and stayed at the cottages with my oldest daughter in June 2018 and January 2019.

Emma and Charlie are the perfect hosts they made us feel completely welcome in their beautiful home which sits in beautiful grounds surrounded by spectacular views of Yorkshire.
Yoga at Patrick Brompton Hall is a very special experience.
The beautiful and peaceful yoga studio is the perfect setting for yoga practice.
I have taken part in several Kundalini yoga classes during retreats at Patrick Brompton Hall and have loved all of them.
I was a novice to this particular yoga but the classes catered for all abilities and I was immediately made to feel comfortable.
I couldn't have asked for a better start to my Kundalini yoga journey and I can't wait to go back again soon!
To sum it up with one word: love. The best yoga retreat I have been to.
Amazing teacher, wonderful hosts, beautiful facilities, gorgeous surroundings, and delicious food.
Absolutely loved every bit of it
I have been to many different yoga retreats both in the UK and overseas and this one was by far the best.
My advice? Book it now!
I want to do your yoga Nidra class again – I slept so well. Thank you.