Kundalini Yoga
Kundalini yoga is known to bring about a profound sense of personal transformation and joy. Kundalini postures help bring the thinking mind into alignment with the intuitive heart space. Kundalini yoga works with your body to restore hormonal and glandular balance. This yoga gives you the tools and balance to manage the life and times we live in today. Every lesson can release some magic inside you. It  is 'yoga for everyone' and your vibration rises. Come and try for yourself.
Monday night is our regular Kundalini yoga class where you  can expect your practice to include all the physical psychological and spiritual aspects of yoga. Your practice will have a theme or intention that is set at the start.
Beginners welcome to this 75 mins class practice. Any strong postures can be adapted with props to suit your body capability.  The Kundalini emphasis is on physical/mental cleansing, release and meditative upliftment. Kundalini yoga works with the power of asana (posture), pranayama (breath), mudras (hand gestures that channel energy flow) and  the magic of chanting mantras (short mantras) as part of the practice.
The Gong relaxation
At the end of each lesson you can relax to the exceptional healing sound of the gong. The gong works on a cellular level, healing whatever needs healing in your body, and post-yoga your body is ready to receive the gong in this special way.
Emma does not adapt postures for pregnant ladies, therefore this class will not be suitable for you. Please join Alexandra's pre-natal class for pregnancy yoga at YSY.
Private Practice with Emma
Emma is available for private lessons. Please enquire.
Kundalini Class times: Monday – 7.15-8.30pm
Occasionally: Thursdays: 7.30-8.45pm
Fridays: 5-6.15pm
Yogi Bhajan brought the technology of Kundalini yoga to the West in 1969.
He said…
'Kundalini yoga is simply the uncoiling of yourself to find your potential and your vitality and reach your virtues. There is nothing outside, everything is in you. You are the storehouse of your totality.Intuition speaks to us in many ways. Go inside and listen to your inner voice. Every question has an answer, there  IS a way through every block. Your soul is full of wisdom and knows the way.'
This yoga focuses on EXPANSION, energy activation, breathwork and meditation (which includes meditative chants.) It is a yoga that builds your physical strength, creates a strong nervous system (the basis to withstanding the pressures of today's life) and a radiant and physically powerful body. It is a yoga that works on the hormones, (youth and vitality) and helps self-acceptance. They say one should try Kundalini yoga three times. Some say,  it is from the very first class that they found their light and  joy, qualities that resides within us all.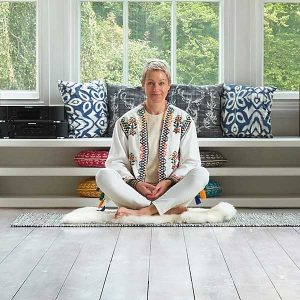 Name: Emma
Class: Kundalini Yoga
Emma is a certified Kundalini Yoga, Yoga Nidra teacher and Gong practitioner and is the founder and owner of YogaSpace Yorkshire. She trained with KRI certified yoga schools in London and Portugal and is a member of Yoga Alliance Professionals. She has also trained with James Reeves who teaches the acclaimed Yoga Nidra IRest method. She has trained extensively with  Carolyn Cowan.
Emma's vision is to bring yoga and wellbeing into the heart of the Yorkshire countryside and make it available both to locals and to residential retreat visitors.Emma also practises Vinyasa Flow, in  classes with Julie Montagu.  She  is trained in Mandala Flow taught by Julie Montagu's Whole Self Yoga School. Emma also loves Jivamukti yoga and takes regular classes with one of London's finest teachers, Durga Devi at Triyoga Chelsea.
Emma  collaborates with visiting guest teachers and co-ordinated the retreat programme at YSY.
She also runs a drop-in  YogaSpaceYorkshire Women networking group meeting for all ages and interests. These take place usually during the winter and early spring.  You can expect lively discussions, a short pranayama/yogic practice and always some Yogi tea and cake. They take place on  Sundays from 4.30pm-7pm. Make an enquiry if you are interested to join in.
Join the newsletter for updates about all these events to know more and join in. We are waiting to welcome you here.Emma's vision is to bring yoga and wellbeing into the heart of the Yorkshire countryside and make it available both to locals and to residential retreat visitors and anyone visiting this part of North Yorkshire who seeks a mid-week yoga practice.
TESTIMONIALS

The Women's Group has been an amazing, welcoming, warm experience.
The positive energies and collective female wisdom has been brilliant – the thought provoking sessions followed by the yoga and final gong bath was the perfect balance – thank you Emma – and please can we do it all again!
I came on retreat and stayed at the cottages with my oldest daughter in June 2018 and January 2019.
Emma and Charlie are the perfect hosts they made us feel completely welcome in their beautiful home which sits in beautiful grounds surrounded by spectacular views of Yorkshire.
Yoga at Patrick Brompton Hall is a very special experience.
The beautiful and peaceful yoga studio is the perfect setting for yoga practice.
I have taken part in several Kundalini yoga classes during retreats at Patrick Brompton Hall and have loved all of them.
I was a novice to this particular yoga but the classes catered for all abilities and I was immediately made to feel comfortable.
I couldn't have asked for a better start to my Kundalini yoga journey and I can't wait to go back again soon!
To sum it up with one word: love. The best yoga retreat I have been to.
Amazing teacher, wonderful hosts, beautiful facilities, gorgeous surroundings, and delicious food.
Absolutely loved every bit of it
I have been to many different yoga retreats both in the UK and overseas and this one was by far the best.
My advice? Book it now!
I want to do your yoga Nidra class again – I slept so well. Thank you.
JOIN OUR NEWSLETTER
FOR WORKSHOPS, CLASSES & OFFERS
your personal data will be handled
in accordance with our privacy notice
SAY HELLO ON SOCIAL MEDIA
@YOGASPACEYORKSHIRE