Yoga Nidra with Gong
Pop- Up occasional dates – sign up to our newsletter to be alerted to sessions.
Upcoming date: 13th Oct  2023 6.30pm
Yoga Nidra is yogic deep rest, a state of consciousness that is a simple, yet profound way to unwind the nervous system and bring about the benefit of complete mental and physical relaxation with inner awareness. Emma trained with James Reeves and the Irest Method. James helps many celebrities including Emma Watson.
Emma will guide you through the practice and lead you into this yogic rest state. Emma works with the power of intention when she delivers a Nidra practice. Yoga Nidra allows you to access the subconscious mind and come into alignment with your inner awareness. The gong is played during the session to further enhance your intention setting, and for your subconscious relaxation.
The practice is 60 minutes and does not involve active yoga poses. Come as you are, or in comfy clothes,   as you will lie on a mat and sheepskin and use blankets and bolsters as props to help bring about your state of total relaxation. (Bring as many of your own comfort props as you wish, no eye pillows are being supplied currently.)
To enquire – Emma: emma@yogaspaceyorkshire.com
Open to all over 16 years of age.
Gong is played – class not suitable for anyone pregnant.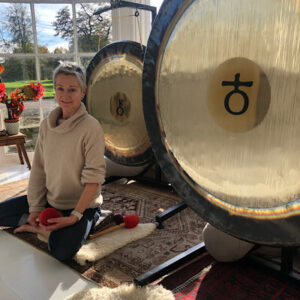 Name: Emma
Class: Yoga Nidra with Gong
What do they say about Yogaspace Yorkshire?
I have been to many different yoga retreats both in the UK and overseas and this one was by far the best.
My advice? Book it now!
Emma's Kundalini classes are 'first-class, a relaxed and professional atmosphere. Emma is fabulous teacher and really opens you to a new way of being while you show yourself self-love and care'
I have taken part in several Kundalini yoga classes during retreats at Patrick Brompton Hall and have loved all of them.
I was a novice to this particular yoga but the classes catered for all abilities and I was immediately made to feel comfortable.
I couldn't have asked for a better start to my Kundalini yoga journey and I can't wait to go back again soon!
The Women's Group has been an amazing, welcoming, warm experience.
The positive energies and collective female wisdom has been brilliant – the thought provoking sessions followed by the yoga and final gong bath was the perfect balance – thank you Emma – and please can we do it all again!
I want to do your yoga Nidra class again – I slept so well. Thank you.
From the first moment of entering the beautiful hall, I knew this studio is something special. A light spacious yet so cozy and calm yoga space is hard to find. Relaxation comes naturally and yoga is so much more enjoyable in these beautiful surroundings. Emma is am amazing kundalini yoga teacher and divine when playing the gong. Her classes are challenging yet respect individual circumstances and make you feel so much better instantly. She is very knowledgeable, connects theory and practice with ease, is full of energy and positive spirit and a joy to be taught by. I truly love my kundalini yoga and gong sessions with Emma
To sum it up with one word: love. The best yoga retreat I have been to.
Amazing teacher, wonderful hosts, beautiful facilities, gorgeous surroundings, and delicious food.
Absolutely loved every bit of it
I came on retreat and stayed at the cottages with my oldest daughter in June 2018 and January 2019.

Emma and Charlie are the perfect hosts they made us feel completely welcome in their beautiful home which sits in beautiful grounds surrounded by spectacular views of Yorkshire.
Yoga at Patrick Brompton Hall is a very special experience.
The beautiful and peaceful yoga studio is the perfect setting for yoga practice.
Join our Newsletter
Your personal data will be handled in accordance to with our privacy notice