We are a friendly fully-equipped yoga, Pilates and tai chi studio near Bedale.All classes are offered online. Sign up to our newsletter to be the first to know if classes may be held outside, or when inside classes at be resumed. Namaste.
Today's Online Classes
Emma @YSY offers online classes each week in the following:
Kundalini yoga, – Monday  7pm Zoom
Yoga Nidra, – Wednesday 6pm Zoom
Coretastic Firm-Up fitness, – Thursday 6.00pm Zoom
Outside Yoga at YogaSpace Yorkshire
Outside classes for 5 students, when weather permits.
New yogis welcome,
Please email emma@yogaspaceyorkshire.com
Our teachers offer Zoom classes+some outside classes for up to 5 students. Enquire.
Online classes with YSY teachers
Online yoga available via Zoom. Contact each yoga teacher individually, see below.
Emma – see Emma's list of classes in the box opposite: contact: emma@yogaspaceyorkshire.com
Alexandra – weekly online Pre and Post- Pregnancy, Tai Chi classes – contact alexandra@yogaspaceyorkshire.com for times
Pam – online Pilates classes everyday 6pm – contact pam@yogaspaceyorkshire.com
Jade – online vinyasa flow – contact jade@yogaspaceyorkshire.com for times
Rachel – online Hatha + other classes – contact rachel@yogaspaceyorkshire.com
Emma (Robinson) – online classes during the week – contact em.rob@yogaspaceyorkshire.com
Our Classes
YogaSpace Yorkshire holds daytime and evening classes in a range of yoga styles and offers four Pilates and two Tai Chi weekly classes. Choose from the following yoga styles; Hatha, Yin, Kundalini with Gong, Vinyasa Flow, Jivamukti, Pre-natal,Yoga Nidra with Gong, Post Natal, Yoga for Cancer, Meditation and Pranayama. Our teachers are dedicated and local, our studio fully equipped with mat and props for your class. You can read more about our class styles in our blog guide here.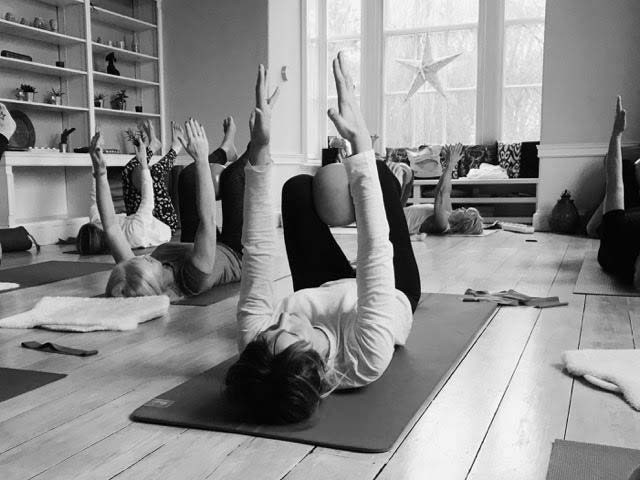 Upcoming Online + Future 'in-person' Events & Retreats
We hold workshops and events, day and residential retreats throughout the year. Whether living locally or further afield or perhaps you are a visitor to the area, you are welcome to enjoy an event. If you are a yoga, Pilates, tai chi or wellbeing teacher we can host your group for a weekend led by you. Our residential weekends are fully catered and we also host weekend self-catering retreat stays using our self-catering cottages adjacent to our studio. Occasionally we host teacher training groups. Contact us for a chat about your requirements.
The Studio
Our beautiful studio is a dedicated tranquil space for your practice and has no other use than for yoga, Pilates, tai chi or wellbeing. Large windows look out over green historic parkland, all your mats and props are here for your class. There is a special energy in the room and during the darker months, evening practice has candles and incense. Some classes are entirely candlelit. Our studio has a sound system and occasionally, we light a real fire to keep you cosy. It truly is a very unique yoga studio in Yorkshire.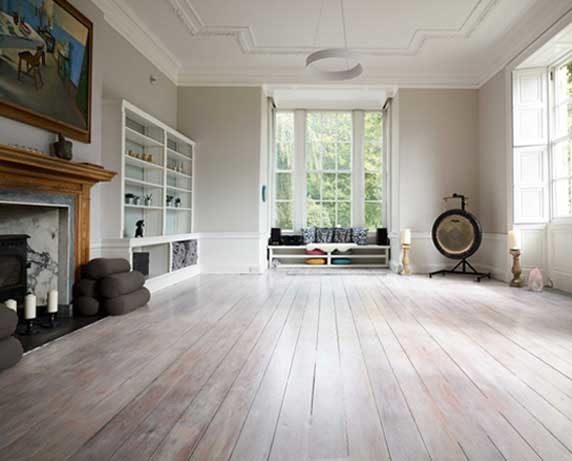 Blog Guides: Our studio classes and teachers
"The long journey begins with a single step" Patanjali
If you are new to yoga, Pilates and tai chi, why not read our blogs to help you decide which class to try? We suggest you try more than one class style as every teacher brings something special and different from another class. The word Yoga means union, of body mind and spirit.
The very essence of your whole self is waiting to be discovered by you here.
Emma Kundalini & Yoga Nidra Instructor
Emma is a certified Kundalini Yoga, Yoga Nidra teacher and Gong practitioner and is the founder and owner of YogaSpace Yorkshire. She trained with KRI certified yoga schools in London and Portugal and is a member of Yoga Alliance Professionals.
Amy Hatha, Yin Yoga, Children's Yoga, Early Hatha Instructor
I am a dancer and have always been interested in Yoga, but for about 5 years of practice I didn't really get what the excitement was about however in 2017 I gave myself the challenge to practice yoga and breath work everyday for one month, as a super busy person my mind was always racing and I liked being active; sometimes in that month all I could give myself permission to do was 5 minutes of deep breaths and that was it.
Alexandra Tai Chi, Pre-Natal, Post-Natal Instructor
In 2006 Alex graduated from Teesside University with a BSc (Hons) Sports Therapy degree. She went on to have a carer within the NHS, while working for the NHS Alex attended York st John University and graduated in 2013 with a BHSc (Hons) Physiotherapy degree. Since then she has worked as an NHS Physiotherapist and also within a private practice. As well as carrying out a range of Physiotherapy treatments she has a passion for and regularly practises Chi Kung a form of Tai Chi.
Pam Pilates Instructor
I've always been interested in exercise and, as I got older, determined to keep my body toned and supple. Pilates works for me as it is all about strengthening and toning without the energetic jumping around of the "gym bunny". I enjoy and find the stretching very beneficial and strengthening making an amazing connection between the mind and body.
Rachel Yoga Fundamentals Instructor
Rachel began her personal practice in her late teens. As a climber and fell runner yoga provided a space to recharge and explore body movement in an alternative way. Later the practices and philosophy of yoga began to inform how to move within the landscape without pushing and with more mental and physical balance, yoga came to inform all aspects of life.
Emma  Jivamukti Yoga Instructor
I'm incredibly excited to be able to offer The Jivamukti method yoga practice to you all. Jivamukti yoga is a vinyasa practice which uses the conscious breath and the setting of a higher intention to help bring about an equanimity of the mind and the ability to embrace the authentic embodiment of the yoga practice. The Jivamukti practice includes the study and understanding of the ancient yogic teachings discussed in a modern context whilst exploring their relevance in the world today, call and response chanting, the physical asana practice and meditation.
Kitti  Lunar Flow Instructor
I am looking forward to welcoming the YogaSpace Yorkshire community to my 60 minute steady Vinyasa flow that incorporates meditation and pranayama at the beginning of class. Our flow will be inspired by the phases of the moon so that we are able to honour and work with our energy levels that are so intrinsically linked with our Lunar Goddess above. Savasana (corpse pose) is occasionally supported with the shamanic drum.
Jade  Vinyasa Flow/Hatha Instructor
YogaSpace Yorkshire provides a wonderful environment for midweek 'pick me up'. I will teach a grounding practice that focuses on calming the mind through pranayama (breathing techniques) as well as focusing on fluidity of movement to encourage freedom in the body. Our practice will end with a heavenly savasana to allow body and mind to reap the rewards from pranayama and postures. All abilities are welcome to my class and I will offer adaptations of postures.
What do they say about Yogaspace Yorkshire?
The Women's Group has been an amazing, welcoming, warm experience.
The positive energies and collective female wisdom has been brilliant – the thought provoking sessions followed by the yoga and final gong bath was the perfect balance – thank you Emma – and please can we do it all again!
I came on retreat and stayed at the cottages with my oldest daughter in June 2018 and January 2019.

Emma and Charlie are the perfect hosts they made us feel completely welcome in their beautiful home which sits in beautiful grounds surrounded by spectacular views of Yorkshire.
Yoga at Patrick Brompton Hall is a very special experience.
The beautiful and peaceful yoga studio is the perfect setting for yoga practice.
I have taken part in several Kundalini yoga classes during retreats at Patrick Brompton Hall and have loved all of them.
I was a novice to this particular yoga but the classes catered for all abilities and I was immediately made to feel comfortable.
I couldn't have asked for a better start to my Kundalini yoga journey and I can't wait to go back again soon!
To sum it up with one word: love. The best yoga retreat I have been to.
Amazing teacher, wonderful hosts, beautiful facilities, gorgeous surroundings, and delicious food.
Absolutely loved every bit of it
I have been to many different yoga retreats both in the UK and overseas and this one was by far the best.
My advice? Book it now!
I want to do your yoga Nidra class again – I slept so well. Thank you.