Latest News
Pilates is back from 23rd June 2021!
Join our 12.15 pm regular  Pilates class with Joanna on Wednesday
11am – Pilates during Pregnancy with Joanna 
From 6th July 2021 – Jade's Pilates class – Tuesdays 6-7 pm
********
Outdoor Supper Club Booking Now Open
Places Limited 
Two Dates – Visit Events Page
Dress Up And Fine Dine With Us
Our Classes
YogaSpace Yorkshire holds studio classes in a range of yoga styles plus classes in Pilates and Tai Chi, taught by qualified experienced local teachers.
Click the timetable link in the header to view our studio class schedule.
Zoom classes: go to YSY Whole Self Hub for online classes and workshops
Covid Safety
All classes must be pre-booked and pre-paid before attendance. We must legally provide your details to the Test and Trace system if ever asked.
Facemasks must be worn indoors at YSY until your teacher starts your class. No changing facilities, come ready for class no earlier than 10 mins before class starts. Practice social distancing in public spaces like corridors. Hand gel must be used immediately upon arrival. Handwashing thereafter even better.
To ensure COVID safe practice, you MUST bring your own mat, blanket, and any prop you enjoy using in class.
We are not able to hire you mats/props for the foreseeable future for your personal safety.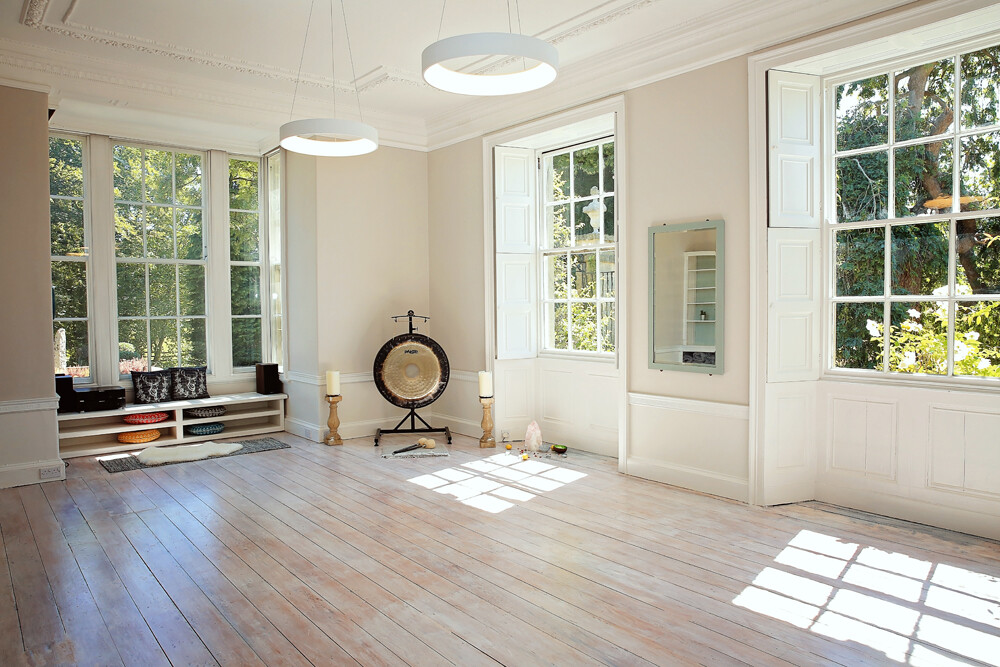 Upcoming Online + Future 'in-person' Events & Retreats
We offer events this year 
See our event calendar to find out what YogaSpace Yorkshire are offering for your wellbeing.
Are you a yoga teacher?
Self-Catering Retreats: YogaSpace Yorkshire can offer yoga and wellbeing teachers and group organizers the self-catering opportunity for a 4-night mid-week or a 2- night weekend residential retreat for a small group of students using our self-catering cottages.
The Studio capacity is dependent on Covid Safety rules – but unrestricted capacity is 12 or 14 per studio. We have more residential space than this, please enquire.
Workshops, day retreats, and events:  Whether living locally or further afield or perhaps you are a visitor to the area, you are welcome to enjoy an event.
We can host your event here: Contact us for a chat about your requirements. We are taking catered residential retreat bookings for larger groups using single accommodation in the house/cottages from July 2021 onwards whilst practicing Covid-cautionary steps to create a safe space.
The Studios
We have two studios – Studio  Bhakti in the East Wing, and Studio Ananda in the West Wing.
Bhakti is the Sanskrit word for Devotion
Ananda is the Sanskrit word for Bliss, Joy, Love
When you practice here, you join the exquisite yogic energy that our studios hold within their walls acquired from the dedication and love of previous classes. We use pure Indian incense.
The studios are naturally lit by large windows overlooking green historic parkland.  In winter some evening practices like Kundalini Yoga and gong, take place entirely by candlelight to enable you to have an experience of yoga and yourself that is transformational and peaceful.
When required, we light a real fire in our studios to keep you cozy.
We know you will find us a very special yoga, pilates, and tai chi studio for your class practice.
Our students are loyal and appreciative and return week after week to this very unique country house wellbeing space.
We look forward to welcoming you too.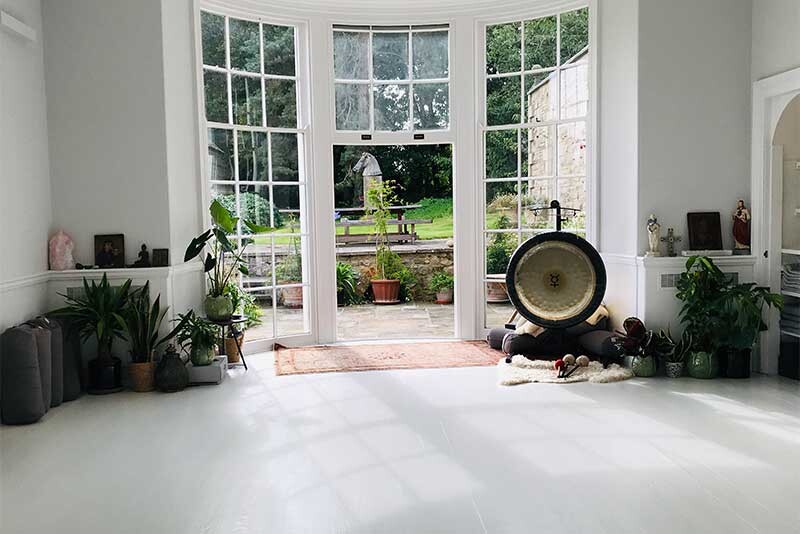 Blog Guides: Our studio classes and teachers
"The long journey begins with a single step" Patanjali
If you are new to yoga, Pilates, and Tai Chi, you can read our blogs to help you decide which class to try? The word Yoga means union, of body mind and spirit.
The very essence of your whole self is waiting to be discovered by you here.
Emma Ropner Kundalini Yoga, Yoga Nidra, Gong +Gong Baths, Yoga For Cancer, Children Yoga, Women's Circles
Emma is the founder and owner of YogaSpace Yorkshire and teaches a wide range of yoga practices.  Her classes are empowering and transformational. Emma adapts classes for all levels, both experienced or beginners. 
Rachel Read  Pilates Instructor
Following a busy and stressful corporate career and a "break" to raise my family I was ready for a new direction. I was keen to follow my heart and venture into something I loved to do everyday. Pilates gives me a little time to concentrate on me, stretch, tone, relax my mind and feel fantastic after every class. This was a feeling I wanted to share with others. Pilates aims to develop complete co-ordination of the mind and body to promote suppleness, muscular power, endurance and good posture. The emphasis is on quality of movement rather than the quantity or load, for me a more gentle approach to health and wellbeing. Please come along to this most beautiful, tranquil of settings and share an hour with me to develop your inner strength of both mind and body.
Alexandra Tai Chi, Pre-Natal, Post-Natal Instructor
Alex has a BSc (Hons) Sports Therapy degree and  BHSc (Hons) Physiotherapy degree. Since then she has worked as an NHS Physiotherapist and also within a private practice. Alex teaches pregnancy yoga, postnatal yoga, and also adapted tai chi here at the studio. All classes run on Tuesdays.  Please see the timetable for further details.

Alex is a women's health Physiotherapist with a huge passion for supporting people through there fitness, rehabilitation, or wellbeing journey.
Mike Hatha Instructor
I've always been interested in exercise and, as I got older, determined to keep my body toned and supple. Pilates works for me as it is all about strengthening and toning without the energetic jumping around of the "gym bunny". I enjoy and find the stretching very beneficial and strengthening making an amazing connection between the mind and body.
Rachel Yoga Fundamentals Instructor
Rachel began her personal practice in her late teens. As a climber and fell runner yoga provided a space to recharge and explore body movement in an alternative way. Later the practices and philosophy of yoga began to inform how to move within the landscape without pushing and with more mental and physical balance, yoga came to inform all aspects of life.
Emma  Jivamukti Yoga Instructor
I'm incredibly excited to be able to offer The Jivamukti method yoga practice to you all. Jivamukti yoga is a vinyasa practice which uses the conscious breath and the setting of a higher intention to help bring about an equanimity of the mind and the ability to embrace the authentic embodiment of the yoga practice. The Jivamukti practice includes the study and understanding of the ancient yogic teachings discussed in a modern context whilst exploring their relevance in the world today, call and response chanting, the physical asana practice and meditation.
Jade  Vinyasa Flow/Hatha Instructor
YogaSpace Yorkshire provides a wonderful environment for midweek 'pick me up'. I will teach a grounding practice that focuses on calming the mind through pranayama (breathing techniques) as well as focusing on fluidity of movement to encourage freedom in the body. Our practice will end with a heavenly savasana to allow body and mind to reap the rewards from pranayama and postures. All abilities are welcome to my class and I will offer adaptations of postures.
What do they say about Yogaspace Yorkshire?
The Women's Group has been an amazing, welcoming, warm experience.
The positive energies and collective female wisdom has been brilliant – the thought provoking sessions followed by the yoga and final gong bath was the perfect balance – thank you Emma – and please can we do it all again!
I came on retreat and stayed at the cottages with my oldest daughter in June 2018 and January 2019.

Emma and Charlie are the perfect hosts they made us feel completely welcome in their beautiful home which sits in beautiful grounds surrounded by spectacular views of Yorkshire.
Yoga at Patrick Brompton Hall is a very special experience.
The beautiful and peaceful yoga studio is the perfect setting for yoga practice.
I have taken part in several Kundalini yoga classes during retreats at Patrick Brompton Hall and have loved all of them.
I was a novice to this particular yoga but the classes catered for all abilities and I was immediately made to feel comfortable.
I couldn't have asked for a better start to my Kundalini yoga journey and I can't wait to go back again soon!
To sum it up with one word: love. The best yoga retreat I have been to.
Amazing teacher, wonderful hosts, beautiful facilities, gorgeous surroundings, and delicious food.
Absolutely loved every bit of it
I have been to many different yoga retreats both in the UK and overseas and this one was by far the best.
My advice? Book it now!
I want to do your yoga Nidra class again – I slept so well. Thank you.
From the first moment of entering the beautiful hall, I knew this studio is something special. A light spacious yet so cozy and calm yoga space is hard to find. Relaxation comes naturally and yoga is so much more enjoyable in these beautiful surroundings. Emma is am amazing kundalini yoga teacher and divine when playing the gong. Her classes are challenging yet respect individual circumstances and make you feel so much better instantly. She is very knowledgeable, connects theory and practice with ease, is full of energy and positive spirit and a joy to be taught by. I truly love my kundalini yoga and gong sessions with Emma
Emma's Kundalini classes are 'first-class, a relaxed and professional atmosphere. Emma is fabulous teacher and really opens you to a new way of being while you show yourself self-love and care'