Magicical Practices For Being Human
Magical Practices For Being Human
A series of 9  x 60-minute classes where we will explore personal spiritual practice through the lens of 10 ways.
In yoga, we call a daily practice 'Sadhana'. You can take 10 minutes or 2 hours. The choice is yours.
Sadhana practice is very personal and can be a solitary time of any length that we take to deepen our personal connection to the divine indwelling self.
Sadhana often involves looking at your day/life through the lens of practices that enhance your mind body and spirit. Some practices are using the mind, some the breath, some journalling, and usually always, some use asana.
However, any daily ritual is also a 'sadhana'. Feeding and walking your dog is a daily sadhana. You are serving something else other than your ego. Swimming first thing in the morning is also a sadhana.
9 sessions to explore practices that support our journey towards being both fully human and fully divine.
Emma will share wisdom about how we can make our lives joyful and meaningful. Each week the 60-minute sessions will be part workshop/part practices with discussions. You may drop into any session – all the dates are on the website and online booking calendar. Attending regularly will enable you to collate useful and beautiful tools to manage how we live today.
A notebook and pen are essential, as are an open mind and heart.
Wednesdays 6 pm from 4th May
All welcome. No yoga skill is necessary.
Classes cost One class credit on the online booking system.
Questions? email emma@yogasapaceyorkshire.com
more info on the YSY website here
4th May, 18th May, 25th May,  8th June, 22 June, 29th June, 6th July, 13th July, and 20th July.
It is our personal contract, that can bring us joy within us and to those we encounter in our outer world.
Booking is essential
emma@yogaspaceyorkshire.com
Any questions – ring Emma 07833 231348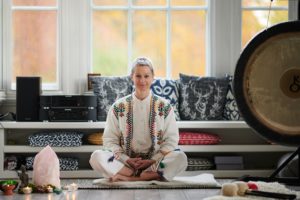 Name: Emma
Class: Magical Practices For Being Human
What do they say about Yogaspace Yorkshire?
I came on retreat and stayed at the cottages with my oldest daughter in June 2018 and January 2019.

Emma and Charlie are the perfect hosts they made us feel completely welcome in their beautiful home which sits in beautiful grounds surrounded by spectacular views of Yorkshire.
I have taken part in several Kundalini yoga classes during retreats at Patrick Brompton Hall and have loved all of them.
I was a novice to this particular yoga but the classes catered for all abilities and I was immediately made to feel comfortable.
I couldn't have asked for a better start to my Kundalini yoga journey and I can't wait to go back again soon!
Yoga at Patrick Brompton Hall is a very special experience.
The beautiful and peaceful yoga studio is the perfect setting for yoga practice.
Emma's Kundalini classes are 'first-class, a relaxed and professional atmosphere. Emma is fabulous teacher and really opens you to a new way of being while you show yourself self-love and care'
The Women's Group has been an amazing, welcoming, warm experience.
The positive energies and collective female wisdom has been brilliant – the thought provoking sessions followed by the yoga and final gong bath was the perfect balance – thank you Emma – and please can we do it all again!
To sum it up with one word: love. The best yoga retreat I have been to.
Amazing teacher, wonderful hosts, beautiful facilities, gorgeous surroundings, and delicious food.
Absolutely loved every bit of it
From the first moment of entering the beautiful hall, I knew this studio is something special. A light spacious yet so cozy and calm yoga space is hard to find. Relaxation comes naturally and yoga is so much more enjoyable in these beautiful surroundings. Emma is am amazing kundalini yoga teacher and divine when playing the gong. Her classes are challenging yet respect individual circumstances and make you feel so much better instantly. She is very knowledgeable, connects theory and practice with ease, is full of energy and positive spirit and a joy to be taught by. I truly love my kundalini yoga and gong sessions with Emma
I want to do your yoga Nidra class again – I slept so well. Thank you.
I have been to many different yoga retreats both in the UK and overseas and this one was by far the best.
My advice? Book it now!