Yoga for Cancer
This class is temporarily suspended – email Emma if you are interested in trying a class.
All spaces must be pre-booked
These classes are specialist classes that help to alleviate the immediate and long-term effects of any cancer and its treatment. Yoga can help to increase strength and flexibility and improve range of motion as well as improving balance and mobility. Yoga can reduce anxiety and stress, lessen fatigue, and as a result improve sleep and quality of life. So, we are not offering a restorative class for cancer, we are offering a specialist class, that may be gentle at times, have a decent relaxation (Emma will play the gong) and the poses will consider your body and your area of treatment. The class is also adapted to how you are all feeling and your energy levels.
There will be a gong relaxation and often yoga Nidra or breath therapy. We will allow for the deep gong bath relaxation at the end when Emma teaches and a supportive relaxation therapy when Alexandra teaches.
We will practice in a safe supportive way – using props, the wall, and chairs, where needed. Bring your own, and we will use ours where we need, and these will be put into isolation between classes.
To book – Emma: 07833 231348
To enquire – Emma: emma@yogaspaceyorkshire.com
Teachers: Emma
Yoga for Cancer
What are the Therapeutic Benefits of Yoga for Cancer
Research into the therapeutic benefits of yoga for cancer survivors has shown that yoga is a safe and effective way for those with cancer to improve their quality of life and health. A study in the Journal of Clinical Oncology (2014) looked at Yoga's impact on inflammation, mood, and fatigue in breast cancer survivors: a randomized controlled trial reported less fatigue and more vitality in the participants who practiced yoga twice weekly for 12 weeks. The group also showed decreased inflammation.
We all know how cancer treatments widely used like radiation, chemotherapy, and medications have a negative effect despite their benefits to conquer cancer cells. They can decrease muscle and bone strength and the class will include weight-bearing poses so that muscle and bone-density build. Even 90 seconds standing on one leg (clean your teeth on one foot!) can help. Twelve minutes of daily yoga increases bone density too.
Don't worry if you come to class with chemo-induced peripheral neuropathy which is that numbness, tingling or burning sensations in the feet and/or hands as yoga can help this too. Yoga has postures and movements that bring circulation and lubrication to hands and feet, fingers, and toes and gentle inversions to help balance the nervous system.
Finally, our class focuses on helping students with the over-thinking side-effects of cancer; worry, foggy brain, rumination, and fear. We work with breath, mindfulness, and meditations and know that this is a big part of the class role, to empower you with tools you can take off the mat to do at home. Another aspect of the class is that you are in a community where you all know what having a cancer diagnosis is like. The connection is vital at this time and even if you turn up to class and lie on a mat that day as that is all you feel you can do that day; you will still be welcome.
Yoga for Cancer class is held on Tuesdays 1.30-2.30pm at YogaSpace Yorkshire – check timetable as this class may not be EVERY week.
You may bring a friend/family to do the class with you if you feel you cannot attend alone on some days.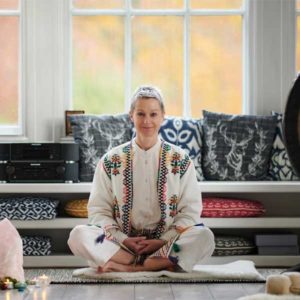 Name: Emma Ropner
Class: Yoga for Cancer
Emma is a certified RYT teacher in many disciplines and is the founder and owner of YogaSpace Yorkshire.
She has trained and qualified with Vicky Fox, who taught a Yoga Alliance certified teacher training Yoga For Cancer and will teach this class alongside Alexandra, our qualified physiotherapist.
She learned her Gong craft from two gong master Gurus; Mehtab Benton from the USA who has taught all over the world, and continues to train with Sheila Whittaker who is the lead trainer at the College of Sound Healing.
What do they say about Yogaspace Yorkshire?
I have been to many different yoga retreats both in the UK and overseas and this one was by far the best.
My advice? Book it now!
From the first moment of entering the beautiful hall, I knew this studio is something special. A light spacious yet so cozy and calm yoga space is hard to find. Relaxation comes naturally and yoga is so much more enjoyable in these beautiful surroundings. Emma is am amazing kundalini yoga teacher and divine when playing the gong. Her classes are challenging yet respect individual circumstances and make you feel so much better instantly. She is very knowledgeable, connects theory and practice with ease, is full of energy and positive spirit and a joy to be taught by. I truly love my kundalini yoga and gong sessions with Emma
I have taken part in several Kundalini yoga classes during retreats at Patrick Brompton Hall and have loved all of them.
I was a novice to this particular yoga but the classes catered for all abilities and I was immediately made to feel comfortable.
I couldn't have asked for a better start to my Kundalini yoga journey and I can't wait to go back again soon!
I came on retreat and stayed at the cottages with my oldest daughter in June 2018 and January 2019.

Emma and Charlie are the perfect hosts they made us feel completely welcome in their beautiful home which sits in beautiful grounds surrounded by spectacular views of Yorkshire.
The Women's Group has been an amazing, welcoming, warm experience.
The positive energies and collective female wisdom has been brilliant – the thought provoking sessions followed by the yoga and final gong bath was the perfect balance – thank you Emma – and please can we do it all again!
Yoga at Patrick Brompton Hall is a very special experience.
The beautiful and peaceful yoga studio is the perfect setting for yoga practice.
To sum it up with one word: love. The best yoga retreat I have been to.
Amazing teacher, wonderful hosts, beautiful facilities, gorgeous surroundings, and delicious food.
Absolutely loved every bit of it
Emma's Kundalini classes are 'first-class, a relaxed and professional atmosphere. Emma is fabulous teacher and really opens you to a new way of being while you show yourself self-love and care'
I want to do your yoga Nidra class again – I slept so well. Thank you.
Join our Newsletter
Your personal data will be handled in accordance to with our privacy notice