In this blog, we focus on Pilates at YogaSpace Yorkshire, a yoga studio near Bedale, North Yorkshire. Our Pilates teacher. Pam has been a teacher for over forty years, in schools and private practice, but before this, Pam was instructing students on horses helping them produce young stock, fabulous dressage tests, or clear rounds at show jumping. She also taught many Yorkshire children to ride. So it is interesting to see how Pam's love of teaching has settled its focus on the mat-based practice we call Pilates.
I asked Pam some questions so that YogaSpace Yorkshire students could learn more about the practice of Pilates here.
Q: Why did you choose Pilates and not a yoga practice for your teacher training?
Pam: As you have already said, I worked as a riding instructor for years, and have ridden horses all my life. However, some later-life falls were harder to recover from and I found that Pilates fitness classes were the best way of healing my body and were a fast way of restoring any damage and flexibility. I soon knew that Pilates was a brilliant way to maintain a healthy functioning physical body, as my years advanced. I loved how it made me feel strong, and walk with correct posture. I loved waking up every day with renewed energy and flexibility.
You need only one thing to practice any discipline:obedience
Yogi Bhajan
Q: Well you do look fantastic, toned and strong this must be why. What does Pilates – this strange name for a practice actually mean?
Pam: Pilates is names after its inventor, Joseph Pilates. He was a modest man, so he first called his exercise series Contrology. Then someone said he must put his own name to the practice he had invented and so he did, and Pilates was born. Joseph Pilates was also a sickly child. He suffered rickets, rheumatic fever and asthma and other muscular-skeletal problems. He did exercises as a child to help with this When he created the Pilates series we do today, whilst he was a German prisoner of war during WW1 he build on this foundation. When he was released from his cell, there was disbelief at first, that he could boast the body of someone who was an athlete despite the size of his cell being barely larger than a yoga mat.
Q: Are there different versions of Pilates and if so, which one do you teach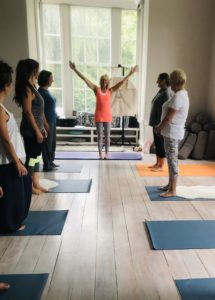 ?
Pam: I teach the traditional mat class as it brings excellent benefits for the body, and fast, with regular attendance. I also believe that mat Pilates is safe, and allows you to feel your body, and reduces the risk of over-stretch and extension. There is a new version of Pilates that is done on a machine often found in large urban gyms, but for the aforementioned reasons, I would not teach a class using the machine.
Q: How physical are your classes?
Pam: We all work in a group in a class, but the exercises can be tailored individually within the group. I get to know my students and make adaptations and suggestions where necessary. I use the teacher skill of watching which I have gained from years of teaching experience. My classes work your core, on balance, on your joint mobility and muscle stretching. It does not have a relaxation at the end like yoga. You work for the full 60-minute class.
Q: Whom do you think your class suits?
Pam: All ages and abilities, all shapes and sizes. I make my classes fun, and energizing. We often have a laugh or joke whilst practicing. The benefits come when you do your best to commit to regular attendance at one of my classes.
Q: Do you need to wear anything special for your Pilates classes?
Pam: Loose comfy clothes that stretch. It's not necessary to go out and buy fitness gear; we all have something loose and stretchy in our wardrobe that we can utilize for a class, I'm sure.
Pam's Pilates classes at YogaSpace Yorkshire are on
Mondays 6-7pm
Thursdays 9.30-10.30am
Fridays 9.30-10.30am
Drop-in and pre-book £10
Or visit her class times to find her contact details