In this blog, I chat with Alexandra our specialist pre-and-post-natal yoga teacher, who brings her experienced Physiotherapist knowledge (she is a practicing NHS and Private Physiotherapist and also offers deep tissue massage) into her lesson deliverance. This helps you feel assured that pre and postnatal yoga classes here at YogaSpace Yorkshire are informed and safe. Our studio is the perfect space for a relaxing therapeutic practice whilst you are expecting a baby. Afterwards we are clean safe loving space when you may wish to bring your baby to class along side you.
I asked Alexandra what one might expect if attending these two classes. Post-natal is 11-12noon on Mondays and pre-natal is 7.30-8.30pm Tuesdays. I learned so much. If only these classes had been available for me when I was in my baby boom years. I delivered three babies with only 40 months between the first-born and the third. Alexandra's classes would have helped me ease the stress I felt, both in my body physically and taught me techniques to calm my exhausted mind and spirits. Becoming a new parent however many times you do, can be a lonely time. A lovely bonus aspect of the classes here is that expectant and new mums love the chitchat with the other mums. Talking is a therapy in itself.
"Your spirit as a women has all the knowledge you need to give birth and nurture your child. It is in your genes, it has been with you since you yourself were conceived. You can trust its wisdom".
Gurmukh Kaur Kalsa
"As a mother, (I have two children, one 3 and one 5) I went to a class near the hospital where I worked during pregnancy. I instantly knew I wanted to help other mums after I felt the benefits. That pre-natal hour became 'me-time', that vital space in my frantic life to lie on the mat and drop into my body away from my mind for a while. I found I enjoyed the gentle stretches and I drank in the breath techniques and birthing advice that I put full use during my confinement.Being in a class full of mums, I lost that 'alone' feeling when you daren't admit to anyone that you are confused by the hormones rushing around your body, exhausted juggling work with a toddler at home, or merely being pregnant which became more overwhelming during the 3rd trimester. The class got me through this anxiety; I fell in love with yoga, and promised myself that as soon as I could, I would take a teacher training in Pre and Postnatal yoga"." "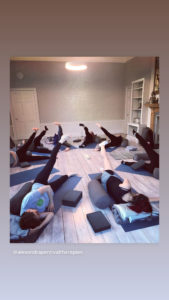 Q: How does the yoga benefit the physical body?
"The muscular skeletal system is connected by one huge mesh called fascia that expands, contracts and carries messages, both physical and nervous, around us. The yoga works with this fascia – like in any ordinary yoga lesson, but where Pre and Post natal yoga is different, is that the teacher is focusing on the benefits for your 'condition' if you wish to call it that. I ensure that your physical body postures are right for you in this 9-month period. After delivery, the focus of the post-natal class is to teach postures in sequences to help bring back muscle connection and strength and elasticity, even tightness where it has loosened to help birth. Before any run, one must learn to walk, and these classes follow this methodology; help you start to take back your previous level of fitness in a supported way by a trained Physiotherapist/yoga teacher. It is the greatest form of self-care you can take."
.
Q: How does your class benefit mum's minds?
"The word yoga means union. These classes help unify the whole body around the experience of having a baby when one can feel very fractured and anxious. When you become pregnant, the responsibility of being a mother begins immediately from the moment you see you are pregnant. Your life has changed forever. It is a huge event to manage and coming to class helps you prepare for this change, to learn breath and posture techniques that simultaneously calm your nervous/alarm system in the body and prevent the stress hormones you naturally produce when anxious, crossing via the placenta, to the baby."
The conclusion I drew from this chat with Alexandra is that these classes truly are a form of 'self-care' for mums. The NHS does not have the resources to provide many of any of these classes so we hope that those of you, who can join, will find you benefit and love this class during your time as a pre and post-natal mum.
If you wish to join one of Alexandra's class series, the next
Pre-natal series starts on January 14th 2020 for 6 weeks – Tuesdays 7.30-8.30pm
Post-natal yoga starts on January 20th 2020 for 4 weeks – Mondays 11-12noon
Contact Alexandra on
alexandra@yogaspaceyorkshire.com to ask questions or to book in.
.