Are you completely new to yoga Pilates or Tai Chi or to YSY? If you can't decide which practice is the one for you, please read this blog and find out what 'speaks or draws' your heart towards your arrival on the mat here.
There is a saying  "try something three times before you decide." But – even if you try a practice 3 times (well done ) that doesn't have to be your practice 'forever'. You can try many of them – before you settle into one or two class styles/teachers that support you. We don't 'chain you ' to any teacher or class here at YSY.
Some students find further mind body spirit balance when they mix up mat practice styles. Many come to a variety of classes simply because they love us and they have the time!
We will look at yoga first
Hatha yoga 60 minutes
(complimentary practice  – try flow yogas)
A general yoga practice of posture breath and some meditation. Hatha draws upon ancient traditions. Poses are demonstrated by the teacher and you are guided in detail with a focus on alignment and breath. This yoga does not flow fast and is a good starter yoga.
Hatha practice can be complimented by Vinyasa flow. Once you have learned the techniques through the accuracy and gentleness of Hatha you can speed them up in Vinyasa/Hatha/Lunar Flow.
Vinyasa/Vinyasa Flow – includes Lunar Flow at YSY. 60 minutes
Complimentary practice (see Hatha)
This is a faster practice and flows between posture and breath in a continual rhythm. This flow is yoga in action placing you in the body. Our Flow classes descriptions help you decide which is right for you.
Kundalini yoga with gong relaxation   75 minutes
(Kundalini is Complimented by Pilates or any other yoga)
This yoga allows personal transformation through your inward focus, an awareness of what is within you. Kundalini postures are the same as some yoga styles, but some are quite different. The teacher demonstrates the posture/actions and then supervises but there is no emphasis on 'you must do' and students can take rests during or after postures.
The short rests allow the body to absorb beneficial hormones. It is therefore also a good starter yoga. There are 8000 health and lifestyle kundalini series to choose from to create hormonal flow, glandular health, strong bodies and nervous systems. There is always pranayama(breath) and often a meditative group chant. Kundalini yoga is our only yoga to offer a deep gong bath relaxation at the end to reset you on a cellular level. Candles and incense are lit to create asacred space for this spiritual yoga and winter classes are enhanced by this deep darkness.
Kundalini is Complimented by Pilates because…. some Pilates postures can be quite similar to  kundalini ( depending on the kriya) so Pilates adds to your strength and flexibility. Or combine with any yoga.
❤️Your heart knows the way. Run in that direction.❤️
Rumi
Yin Yoga. ( complimented by yoga Nidra practice, Hatha or gong).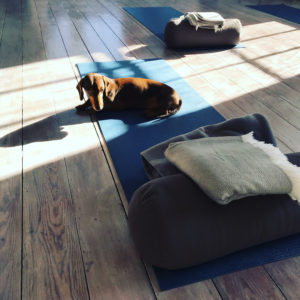 This yoga is very gentle and concerned with fascia release to relieve body tension. Postures are set up in detail by the teacher with the help of props, and held for up to five minutes. YSY is the perfect studio to support this deeply nourishing practice, the space becomes very still and peaceful. If you want to do yoga with gentle energy only – this is a good yoga for you.
Pre and Post Natal yoga 60 minutes -can be complimented by gentle Hatha and Yin – the teacher of any complimented class choice would need to know your condition.
These are very special classes at YSY – they support the immediate stages surrounding a baby's arrival and are vital to the development of your own body, balancing hormonal flow so that pre-birth your body has been nurtured with techniques to help baby flourish in the womb. Breath and postures are taught to help you cope with the birth. Post-natal yoga gently supports you back to your body after the physicality of birth and you may bring your baby. The studio is a peaceful place for these gentle Yoga's.
 Yoga Nidra. 60 minutes – complimented by a physical practice like Kundalini or Vinyasas
This is yogic rest for the body and a powerful non-actice yoga for personal development for your whole being. At YSY our yoga Nidra works with your subconscious mind to help you create and set personal intentions whilst nourishing your mind body and spirit with the cellular sound healing waves of the YSY gong. There are no active postures and you use props to lie in a Savasana restorative pose for the whole class time so that you can fully receive this beautiful meditative practice.
Gong yoga (Naad yoga the yoga is sound). 60 minutes -complimented by any active vinyasa yoga.
This yoga is non-postural and is all about rhythmic pure gong sound waves that create meditations that the human brain cannot analyse and therefore has to 'submit you. The gong takes you out of your thinking left brain and move you into your creative right brain.
Tai Chi. 60 minutes – complimented by pre and post-natal yoga.
This Eastern practice is a life- enhancing and balancing practice that is done mostly standing until the final 15 minute relaxation. It is a very gentle practice suitable for those in their mature years and has a loyal following. Later life age-related conditions such as balance and stability are helped by this subtle but powerful practice. Benefits show after a few lessons.
Speciality Tai Chi
This practice is perfect for those with reduced mobility or special mobility conditions like Parkinsons and Arthritis. Chairs are/maybe used and the practice is tailored to keep you as flexible and balanced as your condition allows. The practice is taught by a trained specialist Physiotherapist.
Pilates. 60 minutes – complimented by Kundalini yoga, Yin Yoga.
This mat practice is the perfect practice for you if you are working on defining and developing pure muscle tone, which can decrease as we age. Muscles can elongate to add grace to your strength and this energetic practice suits those who want to arrive, move and leave 'lighter'. The teacher demonstrates and adapts for all levels.
"Yoga is not about self-improvement. It's about self-acceptance." 
Gurmukh Kaur Khalsa
Yoga for Cancer – 60 minutes
This class is suitable for those at any stage of cancer treatment, their family or friends who wish to come and support. The teacher must be told about the treatment before the start of any class so that they can teach 'in context' for each student on the day.
Meditation/Pranayama Hour – 60 minutes
This class is suitable for all who wish to learn breath and meditation techniques to find stillness and peace. Very suitable for stress management. Meditations may be sitting or lying, and chairs can be used.
 Locals Community Wellbeing Class 60 minutes – complimented by Gong/Nidra/Sound classes.
A general class offered in different practices held here at YSY. Sessions will be taught by varying YSY teachers so that you can enjoy a variety of practice styles. The class brief to our teachers is to offer a practice that the 'many' not the 'few' can enjoy. Chairs may be used.
Finally – we can be affected in the day you arrive on the YSY by our mood, energy levels, work stress, hormones or hunger. Even our personal relationship to ourselves and others. So please do try a class 2-3 times before you delegate it to the bin forever. It's like reading a novel; they say one should read 50 pages before donating it to the local charity shop.
We look forward to welcoming you here to a mat practice that may start the dance of joy in your hearts and the gift of bliss for your body mind and spirit.