Are you completely new to to YSY? Read this blog and find out what 'speaks or draws' your heart towards your arrival on the mat here.
There is a saying  "try something three times before you decide."
Kundalini yoga with gong relaxation   75 minutes
This yoga helps builds a strong nervous system and strengthens mental and physical powers when practiced regularly. Kundalini yoga is a technology yoga, We harness techniques like breath, mantra, meditation, posture, and movement into a powerful toolkit to help manage our hectic lives today. This yoga totally 'lands you in your body through somatic experience to allow you to release yourself from the bondage of the control tower of your mind.
Kundalini yoga is also a breathwork yoga where we combine movement with breathwork, mantra with breathwork, and meditations with breathwork. Most facilitators teaching breathwork today are 'borrowing' ancient kundalini yoga breathwork techniques and tools that Kundalini yoga teachers get taught in their training (look out for non-trained 'teachers of Kundalini' yoga too, always research a kundalini yoga teacher's training and lineage to know you are being taught by someone who has studied the teachings on a registered teacher training and passed exams to become a certified (usually with KRI or Yoga Alliance) Kundalini yoga teacher.
Kundalini yoga is said to be the yoga that builds resilience and awareness creating space for inner peace and releasing vitality within your body via the glandular system. It is also yoga to support every stage of our physical body journey – and many use kundalini yoga to manage the menopause years. 
Kundalini yoga has movements and breaths that specifically target our lymph and glandular system. We must do these things for ourselves, our lymph has no autonomous pump like our heart and circulatory system. Many find that a kundalini yoga practice 'eliminates (toxins) to illuminate' and allow a sense of lightness and joy that was unavailable before attending Emma's classes. Although Kundalini yoga teachers know how toned and strong the body becomes with regular practice we do not focus on 'slimness and streamlining the body and see it as a beneficial and lovely surprising aspect that appears naturally over time as our bodies shift their vibrations and sometimes pounds. This is not a 'gym bunny yoga' but we are active and if you love movement and flow yoga, this IS the yoga for you too.
Kundalini postures are the same as some yoga styles, but some are quite different and simpler. The teacher demonstrates the posture/actions and then supervises but there is no emphasis on 'you must do' and students take moments on the mat after postures.  to absorb the benefits in the body, and allow the hormones to adjust whilst the body (and mind) rest. We do not do headstands, and complicated twisted upside-down poses. The strongest inversion posture we do is shoulderstand and this always has adaptions so that there is a posture that is similar with the same benefits for the thyroid gland without doing shoulder stand in class.
Why do we chant in Kundalini yoga?
Chanting activates our upper dome through the palette of the mouth and affects our limbic system in the brain. Our Hippocampus and hypothalamus is activated through breathwork and mantra. We find our voices in class, and open our throat chakras. Breathwork is key in Kundalini yoga.
Come to a class, Emma runs Beginners Classe in Kundalini yoga every September and January. Join a series now.
We are amazing complex humans – 'doing doing'. Come along 'just be here and enjoy yoga that takes you through a variety of postures (some the same as other yogas, some quirky and different!) and work with every energy centre in the body – finding both your voice and your intuition as well as building your physical strength. We. have domes in the body that reach up into the stratosphere – we work with the body domes in classes but don't be surprised if you feel attuned to all atmospheres, including our solar system, galaxies, and the universe and universal mind. Don't worry if you don't, you will LOVE the joyful vibrational uplifting classes that Emma teaches and where music is always a key part of your time on the yoga mat with her.
Kundalini yoga is our only yoga to offer a deep gong bath relaxation at the end to reset you on a cellular level. In winter, candles are often the only light we use for a class, incense is always lit, to create a sacred space for this spiritual yoga. Kundalini yoga is the only yoga to have a gong bath relaxation after postures.
Kundalini yoga classes teach techniques to manage anxiety, can help those struggling with addictions, and is also beneficial for those enduring a difficult menopause
We make Kundalini Yoga available to all except those who are pregnant.
I look forward to welcoming you to Kundalini yoga classes at Yogaspace Yorkshire in the future.
Use this link to explore class times and yoga retreats.
<!‐‐ Insert the gymcatch-embedded tag in your html ‐‐>
<!‐‐ You will need a unique key from Gymcatch ‐‐>

<!‐‐ Load the Embedded app javascript ‐‐>
❤️Your heart knows the way. Run in that direction.❤️
Rumi
Yin Yoga.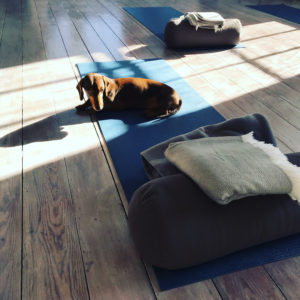 This yoga is very gentle and concerned with fascia release to relieve body tension. Postures are set up in detail by the teacher with the help of props and held for up to five minutes. YSY is the perfect studio to support this deeply nourishing practice, the space becomes very still and peaceful. If you want to do yoga with gentle energy only – this is a good yoga for you.
Pre and Post Natal yoga 60 minutes
These are very special classes at YSY – they support the immediate stages surrounding a baby's arrival and are vital to the development of your own body, balancing hormonal flow so that pre-birth your body has been nurtured with techniques to help baby flourish in the womb. Breath and postures are taught to help you cope with birth. Post-natal yoga gently supports you back to your body after the physicality of birth and you may bring your baby. A studio is a peaceful place for these gentle Yoga.
 Yoga Nidra. 60 minutes
This is yogic rest for the body and a powerful non-active yoga for personal development for your whole being. At YSY our yoga Nidra works with your subconscious mind to help you create and set personal intentions whilst nourishing your mind body and spirit with the cellular sound healing waves of the YSY gong. There are no active postures and you use props to lie in a Savasana restorative pose for the whole class time so that you can fully receive this beautiful meditative practice.
Gong yoga (Naad yoga the yoga is sound).
This yoga is non-postural and is all about rhythmic pure gong sound waves that create meditations that the human brain cannot analyse and therefore has to 'submit you. The gong takes you out of your thinking left brain and move you into your creative right brain.
Tai Chi. 60 minutes
This Eastern practice is a life-enhancing and balancing practice that is done mostly standing until the final 15-minute relaxation. It is a very gentle practice suitable for those in their mature years and has a loyal following. Later life age-related conditions such as balance and stability are helped by this subtle but powerful practice. Benefits show after a few lessons.
Pilates. 60 minutes
This mat practice is the perfect practice for you if you are working on defining and developing pure muscle tone, which can decrease as we age. Muscles can elongate to add grace to your strength and this energetic practice suits those who want to arrive, move and leave 'lighter'. The teacher demonstrates and adapts to all levels.
"Yoga is not about self-improvement. It's about self-acceptance." 
Gurmukh Kaur Khalsa
Yoga for Cancer – 60 minutes – Free Class
This class is suitable for those at any stage of cancer treatment, their family, or friends who wish to come and support. The teacher must be told about the treatment before the start of any class so that they can teach 'in context' for each student on the day.
The class is gentle whilst aiming to build your strength – so that you can be strong for your challenges. There is a gong relaxation to aid you on a cellular level. The session aims to help you leave feeling relaxed and uplifted after practice in a safe place where you can 'let go' for 60 minutes from your current situation. However you turn up emotionally on the day, are welcome. All are welcome.
Meditation/Pranayama Hour – 60 minutes (scheduled to start Autumn 2020)
This class is suitable for all who wish to learn breath and meditation techniques to find stillness and peace. Very suitable for stress management. Meditations may be sitting or lying, and chairs can be used.
 Locals Community Wellbeing Class 60 minutes – complemented by Gong/Nidra/Sound classes. (starts soon.)
A general class offered in different practices held here at YSY. Sessions will be taught by varying YSY teachers so that you can enjoy a variety of practice styles. The class brief to our teachers is to offer a practice that the 'many' not the 'few' can enjoy. Chairs may be used.
Finally – we can be affected in the day you arrive on the YSY by our mood, energy levels, work stress, hormones or hunger. Even our personal relationship with ourselves and others. So please do try a class 2-3 times before you delegate it to the bin forever. It's like reading a novel; they say one should read 50 pages before donating it to the local charity shop.
We look forward to welcoming you here to a mat practice that may start the dance of joy in your hearts and the gift of bliss for your body mind and spirit.